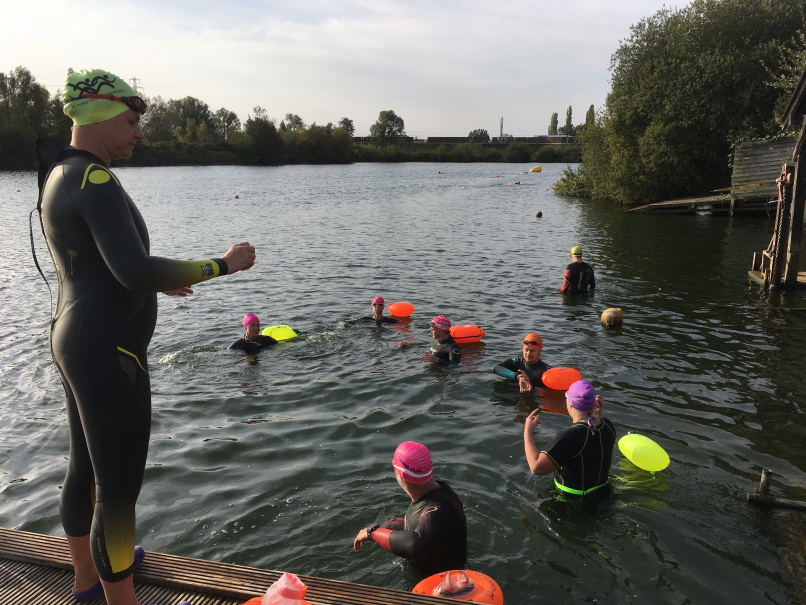 Open Water Coaching at Reading Lake Hotel – 19th September 2020
On Saturday, 19th September 2020, we had a magical day at Reading Lake Hotel. Caroline Hurley is a qualified international open water swimming coach who is the owner of www.swimmingwithoutbarriers.co.uk and held a day of coaching for 8 deaf swimmers about swimming in open water lakes.

I received amazing feedback from everyone, including Justin, an open water coach who assisted me on the day to make sure our swimmers got the most from the sessions.
It was a really great day and I am in the process of approaching other venues and counties across the UK to expand my work in the deaf community and teach more deaf swimmers across the country. If you are interested, please get in touch, we can book a weekend next summer in 2021. Inclusivity is one of my main goals at swimming without barriers and the response I had on Saturday was wonderful.

I have big plans for next summer, please join me to be part of something unique. Below are some of the comments submitted on the feedback forms after the day from swimmers and all those who were involved on the day.

Justin, Open Water Swimming Coach
"Morning all, I just wanted share a fantastic coaching experience I had yesterday. Caroline Hurley one our team, who is deaf and coaches under Swimming Without Barriers, reached out to this group a few weeks back, as she was looking to run a coaching session for deaf swimmers in the Berkshire area. We partnered together and ended up coaching a lovely group of 8 deaf swimmers. It was thrilling to see the participants thoroughly enjoy the session and have time before, during and after to have a good chat and fun.

I myself learnt so much working with Caroline, a signer (on land) and the participants and found it so rewarding being part of this important swimming experience. Whilst out in the water we let swimming doing the talking, as I tried to gesture, challenge, demonstrate and express myself. Collaborating with a fellow coach was great too and Caroline did a great job👌

If you get a chance to do something like this or if Caroline comes calling, please help and support her, as you are in for a lovely experience and it's so rewarding making so many wonderful participants happy. It's a great learning and development opportunity too. 🏊‍♀️🏊‍♂️🏊‍♀️🏊‍♂️🏊‍♀️🏊‍♂️🏊‍♀️"

Jo Gardiner
"Hi Caroline, Today we went to swimming pool and I swam 64 lengths mainly on front stroke. My breathing is fantastic without struggling. It was amazing how quick I picked it up from yesterday training. Thanks so much for your best advice and I appreciate it. Hugs"

Anonymous
"Brilliant to have BSL direct access to swimming coaching, lovely coach and group. Would like more technical tuition e.g. strokes, how to swim more effectively."

Anonymous
"So nice to have full access in BSL and with group of deaf people"

Alison Skinner
"Learning how to swim outdoors as opposed to swimming indoors"

Everyone wants to do this session again, but progress to the next level. Three swimmers mentioned they want to improve their technique in front crawl. They would like to book me in for swimming analysis. They say they don't care how far they need to drive! They would like to be coached by me again.

From the feedback everyone likes the idea of going on swimming holidays with their families during the school holidays or long weekends during school times. Our business is busy putting together a full programme of swimming breaks both within the UK and in Greece and Spain for 2021…watch this space!

Within the UK, I am looking for open water lake venues in the following areas:

Rutland, Derby
Bedford
Hatfield
Chelmsford
Colchester
Norfolk
Lincoln
South Devon (except Vobster Quay)
North Devon
Bristol area
London & North London
Surrey Hill near Woking
Cornwall

Lake owners, managers and swimmers, please get in touch, do your bit for inclusivity in sport in the UK and I can arrange group bookings in your areas in Summer 2021.
Caroline Hurley
International & Founder Swimming Coach
Swimming Without Barriers
info@swimmingwithoutbarriers.co.uk